We can help you with competence and personal advice, in your language of origin as well - Your Orthopedic-on-Rhine-Team
 Spinal column therapy, osteoarthritis therapy and pain therapy are just a few of our specialties. Just come by, get to know us and learn more about our wide range of orthopedic services.
We speak English.
Monday
7:30 AM – 1:00 PM
2:00 – 6:00 PM
Tuesday
7:30 AM – 1:00 PM
2:00 – 6:00 PM
Wednesday
7:30 AM – 1:00 PM
2:00 – 6:00 PM
Thursday
7:30 AM – 1:00 PM
2:00 – 6:00 PM
Your Orthopedists from Dusseldorf- Oberkassel
Dear Patients and Visitors,
we look forward to meeting you.
In our practice in Dusseldorf-Oberkassel we deal daily with acute and chronic orthopedic illnesses and injuries. As a result, we have many years of experience in all common outpatient and inpatient treatment and healing methods, which we gladly explain. Our specialties are outpatient and inpatient operations in all areas of the spine, osteoarthritis, tendon and pain therapy as well as acupuncture.
Our goal is always to provide you with competent and personal advice, to offer you the most up-to-date scientific standards and to provide you with the best possible individual therapy. This is our mission and for this we are at your disposal as doctors with our entire practice team - with all our knowledge, passion for our subject and dedication to each one of our patients.
We look forward to a trusting and successful partnership with you.
Your Dr. med. Olaf Hupfer, Olaf Grytzka, Dr. med. William Pedraza and Dr. med. Tim Adams - Doctors of Orthopaedie am Rhein and Team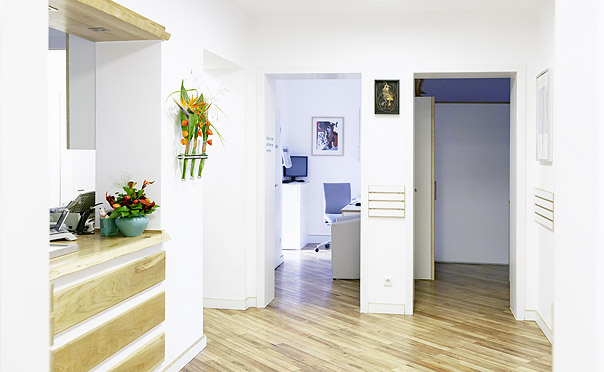 Our Practice
Our bright and friendly practice invites you to make your stay as comfortable as possible. To make you feel at ease right away, all our rooms are light and friendly designed for you. To get the perfect picture, we recommend for you to visit our practice, yourself.
You have questions about our practice
or our services?
Just call us or email us, we are happy to help.